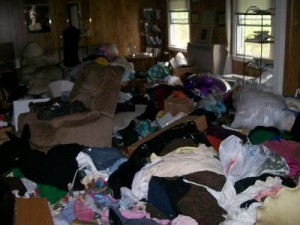 There are many issues that are associated with the accumulation of property and trash such as; personal health, risk of fire or collapse, surrounding environmental and family discontent. By definition  "An unsanitary living environment, the inability to navigate freely within a home or structure, coupled with rodent and pest infestation:, is commonly known as "Hoarding". There are various levels of hoarding according to The National Group on Compulsive Disorganization, but all of them require significant cleanup.
Traumatic Cleanup & Restoration has over 15 years experience in hoarding remediation and can bring your home, apartment, or property back to a condition that is completely safe to re-occupy or market for sale. We pride ourselves on handling your property and family heirlooms with care and are fully insured and bonded for your protection. We also are a "Green Company" and try to keep items out of landfills by recycling or donating items to local charities, with your families approval.
Traumatic Cleanup & Restoration works hard to insures your privacy and only uses unmarked vehicles. We arrive at your property to evaluate your situation, provide you an estimate, work directly with all family members involved and can even handle insurance claims directly. We keep you informed throughout the process and only dispose of "approved" items.  TCR is a fully licensed general contractor and can help rebuild or restore your property to before loss conditions.
If you are in the need of or have questions about our Hoarding cleanup service, feel free to contact us anytime.