Children at risk
TCR was asked to do a meth inspection on a rental property. From the outside, it was just a normal looking building. But we entered this is what was seen… minimal furniture in the property, a mattress on the living room floor and the most disturbing of all… a baby crib. But that's not all – it was the location of the crib… in a closet. I can only imagine how sick this kiddo must be. The levels of Meth in here were above 1200. That is 12,000 times the legal limit! It is so sad that people put their habit before taking care of their innocent kids.
Meth is making a huge comeback
We just finished up with another Meth property inspection and the client asked if Meth is a common thing in Missouri….. He thought that the law banning certain cold/flu products put an end to Meth. NOT SO MUCH. With the Heroine epidemic front and center and the war on prescription drugs being pushed so hard now, Meth is making a HUGE comeback. Most of the heroine and prescription users are now resorting back to Meth due to the cheap cost and much larger supply.
We have seen this for several months and now have some proof: what we have been trying to educate property owners about are, indeed, facts. If you have a rental or foreclosure, you should have your property tested. See KSDK's local news story here.
Mother and Children Living in Condemned Meth House
Even though this property had been condemned since 2014, a mom and her kid were living in this death trap. The former owners were making some Meth when things got away from him and the bottle blew up. It blew the roof off of the foundation and pushed out a wall, and blew out all of the windows. The basement only had about 6″ of water in it but had up to 2′ during rains. With the stagnant water, mosquitos were swarming me as I tested the property. No power or water, yet they still lived there… Since our visit and results… the city has torn down this property due to all of the structural issues and very high levels of meth residue.
Rental Property Had Meth Equipment Around Toddlers
This was a property that was occupied with mom and her 2 young toddlers. She left all of the shake-n-bake items to make meth just lying around the house, most of it in the kids' rooms. She even went as far as to set up a "meth chamber" (her words) to try and confine the off gassing chemicals while she was making meth. She had a particulate mask hanging at the entry of a bedroom door that she wore when she went into the room to make meth. She took some precautions herself, but not for her kids. This is the sad life of a meth addict who puts addiction before parenting…
Why Replacing Meth Contaminated Carpet/Pad Is Not Enough
Just replacing the carpet is not going to cut it when it comes to properly decontaminating a property from a decomp. The insurance adjuster misguided the homeowner to just replace the carpet/pad and all is good. She fought the owner for a week, denying their claim… As we showed her the photos of the meth-contaminated subfloor and explained the smell to her… she later agreed to replace the subfloor and treat the property "properly" for the odor.  Another satisfied client!
Meth Warning Signs Reported by Neighbor
Here are a few warning signs we found during a property inspection. If it was not for a "nosy" neighbor sharing the sordid past of the last owners, the young family who was about to purchase the home might have been in way over their heads financially.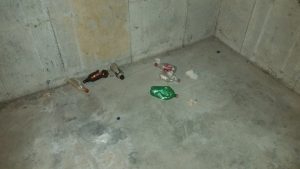 Discarded Bottles Fall During Meth Decontamination
While prepping a property for a meth decontamination, I was removing the insulation from the basement floor joists… when out of nowhere several pieces of trash along with 4 bottles fall out, bouncing off of me and crashing to the floor. To the untrained eye, these are just trash, however… a closer look and they are discarded shake and bake bottles with some of the waste chemicals still in them. So, after my heart rate returned to normal, and no immediate hazards were found, back to work!!!
Violence and Property Damage from Meth Users
Over the course of 2 weeks while inspecting 12 homes for meth contamination, all but 1 had been involved in meth, 2 by small shake & bake production and 10 by smoking meth. These photos show a very telling sign of meth properties… violence and random thoughts!!!